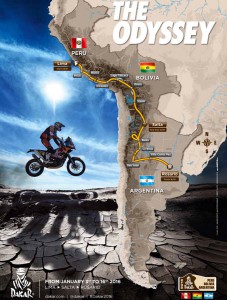 After the announcement of the route for Dakar 2016, we know that the countries which will host the rally are Peru, Bolivia and Argentina. For the first time in South America, Chile will not participate in the competition.
Now, the organization team of Dakar 2016 unveiled some more details about the stages and cities which will be involved in The Odyssey. A.S.O. made presentation in the three capital cities and explained the towns where the bivouacs will be installed throughout the race.
Starting from Lima on 3 January, Dakar 2016 will have 4 stages in the lands of Incas. The well known towns of Nasca, Pizco and Arequipa (with a lot of sand and dunes on the route to there) will host the rally, before the  caravan move to the legendary lake Titicaca. Next on the menu of Dakar 2016 is Bolivia, with stages to Oruro and Uyuni.
On 9Th January, Dakar 2016 will enter Argentina with stage vers Salta, where will be the rest day. After, the competition will go south-east to Belen, La Rioja, San Huan, Villa Carlos Paz and Rosario. In Rosario will be the finish of Dakr 2016 on 16Th January.
Here is the detailed route of Dakar 2016 by date:
Peru
3/01: Lima-Pisco
4/01: Pisco-Nazca
5/01: Nazca-Arequipa
6/01: Arequipa-Lake Titicaca
Bolivia
7/01: Lake Titicaca-Oruro
8/01: Oruro-Uyuni
Argentina
9/01: Uyuni-Salta
10/01: rest day at Salta
11/01: Salta-Belén
12/01: Belén-Belén
13/01: Belén-La Rioja
14/01: La Rioja-San Juan
15/01: San Juan-Villa Carlos Paz
16/01: Villa Carlos Paz-Rosario